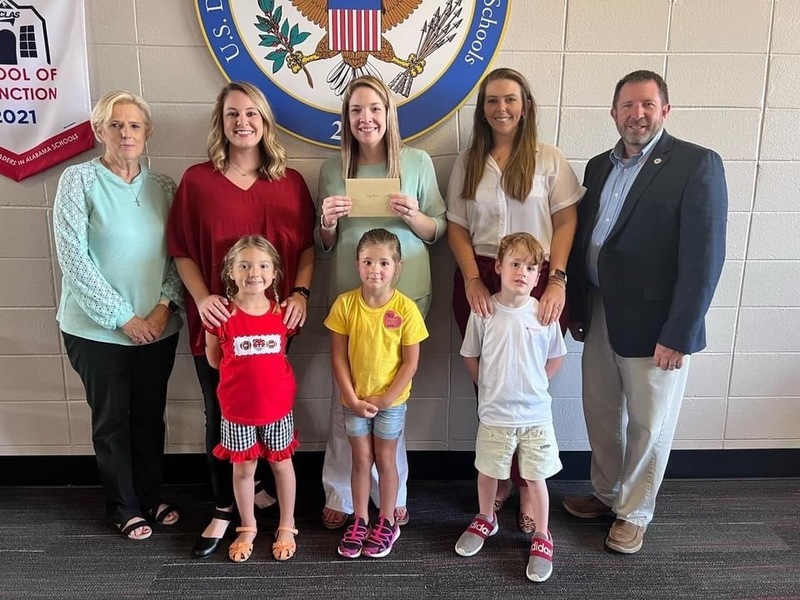 Accounting Firm Kilgore, Brown, and Brittain representing Mrs. Brown's class. Judy Crane, Erica Ross, Brittany Brown, Alexia Swain, Barry Wood. Students: Olivia Ross, Amelia Kilgore, Wilder Swain.

Celebrating Brewton Elementary's Neighborhood
Brewton Elementary School and the Greater Brewton Area Chamber of Commerce have partnered to bring the spirit of Mister Rogers' Neighborhood to the halls of the school for Brewton Elementary's Family Night on September 29th. Lee Barrentine, President-Elect of the Chamber said, "Mr. Wood presented to the Chamber Board of Directors that he would like to decorate each classroom door at BES with a local Brewton Business/Organization. We as the Chamber thought this was a Great Idea and we all reached out, and the Brewton Community responded. That's one thing about our community, the people are always willing to help. The Mister Rogers' Neighborhood theme is going to be a very creative way for the BES students to learn about the various businesses and organizations in their community. Kudos to Mr. Wood for implementing this at BES!!"
Family nights at Brewton Elementary are held annually to promote literacy, mathematics, as well as community and family involvement. "The community surrounding Brewton Elementary has always been very supportive of our children and our school. When we chose the Mister Rogers' Neighborhood theme for our family night, we saw it as a way to honor the many businesses in our community. It also serves as an opportunity to encourage our children to learn more about area businesses in the process as they dress in their favorite career outfits for the celebration. We wanted to extend an invitation to our Chamber partners to come be a part of our student's education throughout the year, by reading to a class, maybe doing a math lesson, or sharing career opportunities with our students. We're very thankful for the relationship we have with the Chamber and we're looking forward to celebrating them along with our students and families," Barry Wood, BES Principal.
Stacey Holt, Chamber of Commerce President, noted, "the Greater Brewton Chamber of Commerce would like to thank Mr. Wood for allowing us to partner with the school on their annual Family Reading Night. For years, this night has been a huge success for the school, students and parents. Mr. Wood and the Chamber combined our thoughts on a way to include our community during this event, while making this fun for the students. Each classroom will be decorated with materials presented from each business as a form of advertisement incorporating Family Reading Night and Career Day into one event. I would like to thank Susan Rhodes for leading and organizing this event. I would also like to thank all of the businesses that quickly responded and wanted to participate in this exciting event."
Brewton Elementary School's Family Night will be held on Thursday, September 29th from 5:30 to 6:45 PM.